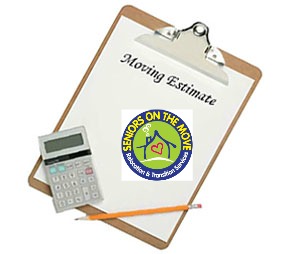 Who will you trust with your life's possessions? What is this going to cost? What will they do? All of these questions run through your head when it is time to move. The first thing you need to do is get a couple of estimates. We have compiled a list of questions to ask your potential mover so your task will be less daunting.
1) Are you certified, bonded and insured? If the answer to any of these questions is no, then move on. You need to know that your interests are protected. A cheap move may result in loss or damage of your precious chattels resulting in unnecessary worry and additional expenses on your part. At Seniors on the Move we are certified by CRTS™. CRTS™ is more than education or training—it is the most recognized symbol of professionalism and standards in move management, senior relocation and senior transition services. We would be happy to provide you with proof of our insurance and bonding.
2) Will you come out to view the move? Taking a look at what actually needs to be done in advance will eliminate unexpected extras on moving day. Amount of boxes, heavy items to be moved and unusual items may be the surprise you will want to avoid moving day. We make sure to come out to visit your move location to give you the most actuate estimate without surprises.
3) What services are included? Many moving companies show up on moving day to load and move your possessions. Do you need items to be packed? If they offer a packing service, what do they supply? Can I pack it myself? Do you help sort and downsize? Can you dispose of unwanted items? Where do you dispose of my items? Choose a responsible company who donates or recycles your items. Seniors on the Move offer all of these services and more to make your move stress free. We help several non-profit organizations with your donations. Visit out services page or call us for more information.
4) Get it in writing! Make sure you get everything in writing. The estimate should be on company letterhead and include the cost per hour and terms of payment, and timing of services to be provided. If you have an established a moving date, include that on the estimate as well.
Following these basic tips and trusting your instincts should help you choose the best company for you. Our training and experience in the move management of seniors and others gives us an advantage that may make your moving nightmare a dream.
Need an estimate? Please feel free to call us at 905-933-0730 or email us at seniorsonthemove@gmail.com .